Foot pain relief options and ankle pain relief options can help if you find yourself with sore, achy, or painful feet. Our feet and ankles put in a lot of work for us on a daily basis. And pain in our feet and ankles can really keep us from doing the things we love. Here are some handy tips and tricks on how to relieve foot pain.
We all experience it from time to time. You've been on your feet for too long or you didn't see that divot in the lawn and you twisted your ankle. Foot and ankle pain can be caused by something as simple as shoes that don't fit to something that needs medical attention, like a sprain or fracture. Foot problems can also stem from joint pain from osteoarthritis.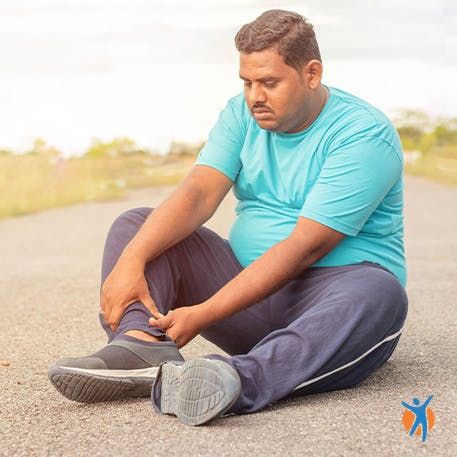 While they can often be managed at home, sometimes foot and ankle pain require medical attention. When to see a doctor:
If the pain is getting noticeably worse

If you notice changes to the colour of your skin, such as turning blueish or black

If you notice progressive changes to the shape of your foot

If you notice signs of infection, like swelling and warmth when touched

If you cannot bear any weight on your foot
NSAIDS
Non-steroidal anti-inflammatory drugs (NSAIDS) like Voltaren are helpful in relieving pain and reducing inflammation. You can read more below about when Voltaren might be the right solution for pain relief.
Paracetamol
Medications such as paracetamol can relieve pain.
A cast, splint, or brace
If your foot or ankle is sprained, your doctor may recommend an elastic bandage, sports tape or an ankle support brace to stabilise the sprain. In the case of a severe sprain, a cast or walking boot may be necessary to immobilise the sprain while it heals.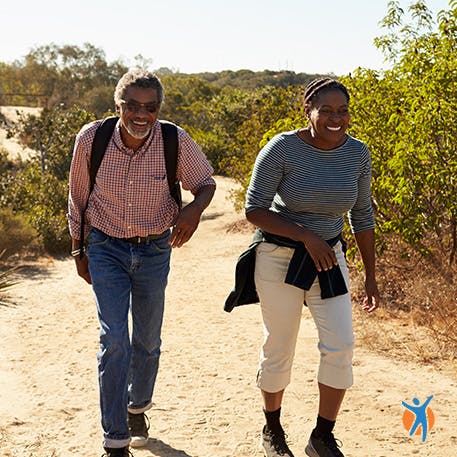 Well-fitting shoes
A fairly straightforward foot pain relief option, a well-fitting pair of shoes can go a long way in both reducing and preventing foot pain. We've all done it. Squeezing our feet into a too-tight pair of shoes because they go with our outfit may feel like the right decision for making an impression, but it's no good for our feet. Instead, wear shoes that fit. For instance, find a shoe with a toe box big enough to accommodate your toes without crowding. And it's not only about fit. You'll want to make sure your shoes provide proper support, too. This means arch-support, and shoes that provide cushioning between the bottom of your foot and the ground.1
Voltaren products for foot and ankle pain relief
Well, here's some good news. You can use Voltaren for foot pain, as well as ankle pain, to help get you back moving with joy again. Voltaren products for foot pain relief and ankle pain relief include:
Voltaren Emulgel

Voltaren Rapid tablets
Each of these products deliver a dose of diclofenac for effective results that will have you on the path to joyful movement.
Voltaren Emulgel is indicated for soft tissue injuries (that's when you injure tendons, ligaments, muscles, and joints) – such as sprains or strains. It is also for soft tissue rheumatism – including tendonitis or bursitis which can be quite common in the feet and ankles.
Voltaren Rapid 12.5 tablets are for rheumatic pain (meaning pain from conditions in joints, cartilage, tendons, ligaments) and muscle pain.
Whether it's from muscle pain, or a sprain, Voltaren's medicated products work by delivering a dose of dicloflenac, a non-steroidal anti-inflammatory (NSAID), for a dual benefit:
Relieve pain

Reduce inflammation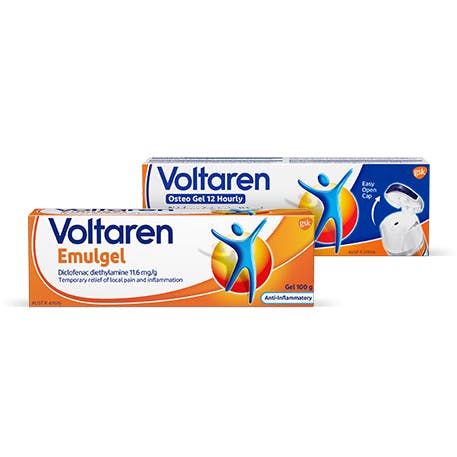 Voltaren Gels
Voltaren gels penetrate deep into your skin and targets delivery directly to the affected tissue underlying the treated area. Voltaren gels penetrate the skin to the underlying tissue. As well as reducing pain, the active ingredient, diclofenac, treats inflammation which is a cause of pain. Our Voltaren Osteo Gel 12 Hourly* lasts for longer, as diclofenac accumulates under the skin, acting as a reservoir for sustained release of dicloflenac for up to 12 hours of pain relief.
*Volatren Osteo Gel 12 Hourly is for mild osteoarthritis of the knees and fingers.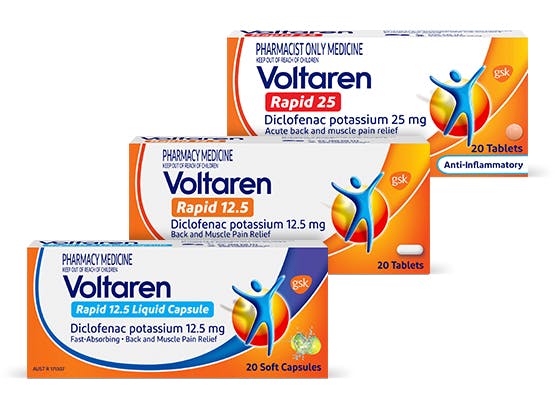 Voltaren Rapid tablets
Voltaren Rapid tablets work by relieving pain and reducing inflammation.
All our medicated products contain diclofenac, which block the chemicals in your body that cause pain and inflammation. That's the science – the result is pain relief, letting you get back to your life with less foot pain, as we've got it covered.
Explore Voltaren's products for pain relief
Health, wellness & your pain
Pain is rarely just physical nor is it always solved by taking medicine alone. Voltaren is your ally in helping you take more control of your pain journey, from the way you sleep, to what you eat, mental wellbeing and complementary pain relief therapies.