With over 50 years of experience, we have a unique understanding of body pain and how it affects every person differently. Constantly in search of solutions that are best adapted for the vast range of muscle pain relief, joint pain relief and other body pain relief needs we have developed a range of solutions that are available in several convenient formats.
Originally we developed a totally new and unique pain relief gel that combined an effective pain relief medication with a gel that can be applied directly to the point of pain, Voltaren Emulgel. Since then we have continued to increase the diversity of our pain-relief solutions to better meet everyone's needs and lifestyle. Our range now includes oral Voltaren Rapid 25 tablets and Voltaren Rapid 12.5 tablets and liquid capsules, Voltaren Osteo Gel 12 Hourly with an easy open cap, and Voltaren Emulgel with No Mess Applicator. We are proud to be part of Haleon, the largest consumer health company in the world, to deliver better everyday health with humanity.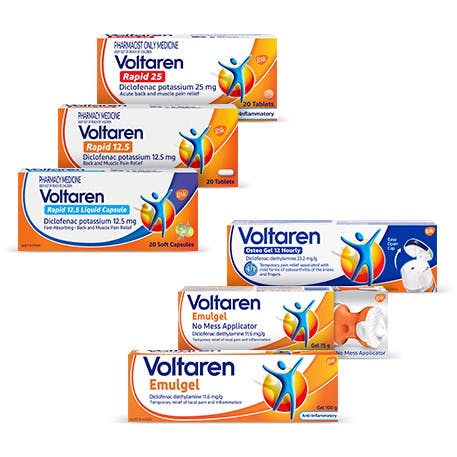 Our expertise
We develop science-led pain relief solutions for you. We don't just relieve pain with our Voltaren products, we innovate new solutions that fit seamlessly into your life, so you don't have to give pain a second thought.
The GSK Global Pain Index is ... an in-depth global study into physical pain and its impact on people's lives. The results suggest that pain remains a problem for over 92% of adults worldwide – with 86% experiencing body pain.1 We want those numbers to go down.
We know that pain is so much more than a physical sensation. It is emotional, mental, and touches so many aspects of our lives. Our approach to creating content for you rests on this knowledge. We address your holistic health when it comes to pain management – how you eat, how you sleep, how you move, how you speak to your doctor – all on top of our range of products to relieve your pain.
Read More
The science behind Voltaren
The active ingredient in our Voltaren products is diclofenac. Dicloflenac is a nonsteroidal anti-inflammatory (NSAID) which inhibits chemicals that signal to your brain that you're in pain.
The Voltaren range includes topical (applied to the skin) pain relief products in the form of gels and oral pain relief products (tablet and liquid capsules). The diclofenac in clinically proven topical Voltaren products works by penetrating deep through the skin, relieving pain and reducing inflammation directly at the source.
The first osteoarthritis friendly website, designed for you
Learn how our osteoarthritis-friendly features can help you navigate our site more easily—without using your hands.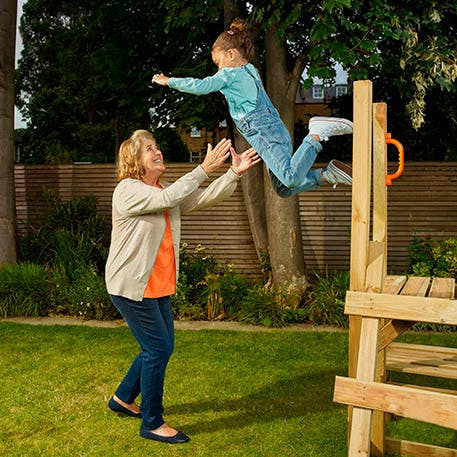 Restoring the joy of movement defines who we are, what we do, and everything we strive to achieve.
Voltaren knows that movement is never just about movement. It's goes much deeper than that. It's the way we stay connected to our world – and those in it.
When we move, we connect on a deeper level with those around us. But when we feel pain, our movements change and we can't help but pull back from our world and our friends. Voltaren not only helps to relieve your pain, it encourages you to connect with others again.
We strive to get you on the path towards movement that brings you the joy of genuine connection. And every single movement has a different meaning to different people. Because movement is never just about movement.
Read More
It's that hug that means "I've missed you."
That life of a child that makes them giggle.
That kick of the ball that means "I'm still one of the team."
Because it's not just movement, it's the joy of movement.
We aim to help make your life better with the best science has to offer – and a whole lot of caring, because we recognise that pain is not just physical. It is emotional and mental, as well. We strive to be your go-to resource for all things pain relief – whether it's tips for how to get a good night's sleep, how to talk to your doctor, how often to reapply Voltaren Emulgel, or even how to stretch out your back and keep moving!